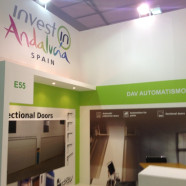 At the beginning of May, DAV Door Solutions set up a stand at Project Qatar International Construction Exhibition. The event, which this year celebrate its tenth anniversary, brought together more than 2,000 companies both local and international (48 countries in total).
With the support of Extenda, DAV has leapt onto the international stage with the objective of extending its trade into the Middle East. Alongside DAV, four other companies formed the expedition that made the Andalusian Pavillion.
The exhibition lasted four days and served to make new contacts and promote ties between Andalusian and other Spanish companies that are currently established and developing large scale projects in Qatar and surrounding countries (Oman, Saudi Arabia and UAE).